Fraudsters don't wear balaclavas – but we can spot them.
Human verified flags for potential risk indictors
Propensity model that identifies spurious behaviour and potential misconduct. Spot the 'bad actors' before they use your business to commit financial crime.
Once you have identified the principal controllers of a business and all their linked connections to the desired degree of separation, Kompli-RiskCheck will provide early warning alerts to known potential risk indicators. These risk flags have all been verified by human investigation and research.
It's easy to compile a database of 'convicted' people after they have perpetrated crimes, assuming they have been identified and caught (<1% are ever convicted). Kompli-RiskCheck alerts you to people who have a propensity to misconduct so that you can act before they commit to, or are convicted of, being a 'bad actor'.
Kompli-RiskCheck leverages not only data such as links to PEP's but suspicious and proven scenarios that point to possible financial crime. Kompli-Global has mapped suspicious behaviour patterns, modus operandi and events that have been used in previous criminality and money laundering activity.
A community reciprocity and reward model allows customers to feed intelligence back to Kompli-Global for our research team to verify and include in future risk flagging.
The user can add notes and annotate the alerts for audit purposes.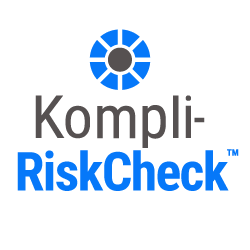 Human verified risk indicators
identifies spurious behaviour and misconduct
before financial crime.
Without Kompli-Global, chances are; you're not going to spot the bad actor.
<15% of all fraud is ever reported
<1% of reported fraud is ever investigated
<1% of fraud investigations result in a conviction
<1% convicted fraudsters are reported in the main-stream media
Traditional Adverse Media providers only pick up articles from main-stream media!